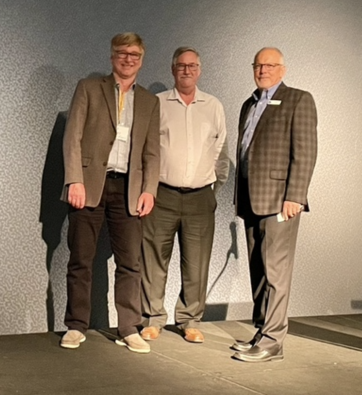 The Pigeon Lake Watershed Association has won the Association of Summer Villages of Alberta "McIntosh Bulrush Award". 
The award recognizes the Caring for the Lake stewardship program. 
The Summer Village of Sundance Beach nominated the PLWA for the honour.
The program brought all Pigeon Lake Summer Villages together to help educate residents and complete projects to improve the health of the lake.
● Volunteers planted more than 3100 plants in the watershed as part of the Caring for the Lake Together program, in addition to 1100 more trees at Bar-V-Nok Ukrainian Orthodox Camp in partnership with AWES
● A demonstration clean runoff garden was constructed at the Mulhurst Bay playground
● A property assessment program and planting resource guide was created
● Cottage owners worked with PLWA staff to assess the clean runoff characteristics of their properties and received landscaping recommendations to make changes to improve water quality
● There were positive examples of shoreline restoration projects that will restore the riparian health, stabilize the shoreline, and slow and filter runoff to reduce phosphorus loading in the lake
● Municipalities incorporated enhanced environmental policies in land use plans and bylaws
● Volunteers monitored the lake for invasive mussels through the LakeWatch and Winter LakeKeepers citizen science programs
● PLWA created an interactive GIS map showing watershed stewardship and water quality monitoring initiatives for Pigeon Lake
● The PLWA Welcome to the Lake program engaged realtors to hand out more than 100 stewardship packages to new residents
● PLWA provided Watershed 101 training for all councilors in 12 municipalities following the 2021 municipal election
● PLWA provided a Land Use Bylaw watershed regulations workshop, with 25 council members and municipal staff participating
● PLWA distributed a Watershed Management in Land Use Bylaw Implementation tool to the 10 Summer Villages around Pigeon Lake
● PLWA's social Media reach was over 56,000 over Twitter, Facebook, and Instagram. PLWA included the hashtag #caringforthelaketogether to share and extend the reach of the stewardship messages.
● The Caring for the Lake Together - Pigeon Lake Watershed Management Plan was named the 2021 Alberta Emerald Award recipient for Water Initiatives
● The Pigeon Lake Watershed Management Plan won the Alberta Professional Planners Institute (APPI) Award of Planning Merit
Onstage to accept the award on behalf of the PLWA: Deputy Mayor of Silver Beach Bob Gibbs
Presenting the award: Mayor of Sundance Beach Brian Waterhouse
President of the ASVA, from the Summer Village of Half Moon Bay - Mike Pashak