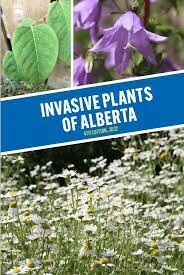 Controlling the spread of noxious weeds along our shoreline and residential lots helps to protect the lake.  Many of the weeds have large root systems, produce extraordinary amounts of seed. Those plants can choke out native plants which typically help with shoreline stability.  It's vital that everyone learn to identify the noxious weeds, and remove them.
Check out the Protect Pigeon Lake page on our website.
Alberta's Invasive Species Council has produced a new poster this fall to help with identifying the weeds.
Prev